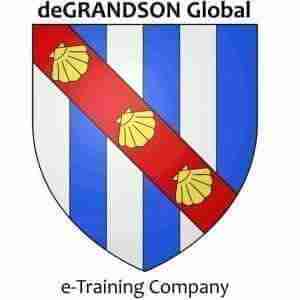 Please read these Terms and Conditions of Use ('Terms')

carefully

before using any of the deGRANDSON Global websites:
These Terms and Conditions apply to all users of these Websites including casual browsers
.
Part A: Terms and Conditions that apply to All Users of a deGRANDSON Global Website
1.1.
These Terms and Conditions of Use (the "Terms") apply to the websites operated by deGRANDSON Global Ltd (T/A deGRANDSON Global) and its licensors
.
BY USING THE WEBSITE, YOU AGREE TO THESE TERMS; IF YOU DO NOT AGREE, DO NOT USE THE WEBSITE.
1.2.
DeGRANDSON Global (the Company) reserves the right, at its sole discretion, to change,
modify
, add or remove portions of these Terms, at any time
.
It is your responsibility to check these Terms
periodically
for changes.
Your continued use of the Website following the posting of changes means that you accept and agree to the changes
.
As long as you
comply with
these Terms, deGRANDSON Global grants you a personal, non-exclusive, non-transferable, limited privilege to enter and use the Website
.
1.3.
 When you use the Website, you accept that your use of the Website will also
be governed by
the Laws of the Republic of Cyprus
.
If any claim or dispute arises from its use or any of the information on it, you agree that the Cyprus Courts will have exclusive jurisdiction over all such claims or disputes
.
2.1 All information found on the deGRANDSON Global World Wide Web Sites (including copy, photos, graphics, audio, links, etc.) is summary in nature
.
They
are provided
without warranties of any kind, subject to change without notice, and intended for general information only
.
2.2 deGRANDSON Global does not warrant the uninterrupted functioning of this Web site
. It also does not guarantee that it will correct defects.
Neither does it promise that the servers that make this information available are free of viruses or other harmful components
.
All e-mail, comments, suggestions, ideas, drawings or other information disclosed or offered to deGRANDSON Global from this site or in response to solicitations or surveys in this site become and
shall
remain the property of deGRANDSON Global
.
2.3 deGRANDSON Global reserves the right to change these terms and conditions to amend products or programs described on this website
.
It also reserves the right to change a course location or cancel it altogether at any time without notice or liability
.
2.4 deGRANDSON Global attempts to provide quality information.
However
, it makes no claims, promises, or guarantees about the accuracy, completeness, or adequacy of vendor-specific or third-party examinations and certifications
.
deGRANDSON Global disclaims all liability for inaccurate, incomplete, or inadequate information relating to vendor-specific or third-party examinations and certifications
.
3.1.
 All text, graphics,  user interfaces,  visual interfaces,  photographs, trademarks, logos,  sounds,  music, artwork and computer code (
collectively
, "content"), including but not limited to the design, structure, selection, coordination, expression, "look and feel" and arrangement of such content, contained on the Website
is owned
, controlled or licensed by or to deGRANDSON Global
.
3.2. 
  Except as
expressly
provided in these  Terms, no part of the Website or its content may
be copied
, reproduced, republished,  uploaded,  posted,  
publicly
displayed,  encoded,  translated,  transmitted or distributed in any way  (including "mirroring")   to any other computer, server,  website or other medium for publication or distribution or for any commercial enterprise, without deGRANDSON Global's express prior written consent
.
 Special Permissions
3.3.
 You may use the information on deGRANDSON Global's Website (such as Course information)
purposely
made available by deGRANDSON Global
.
This
is
provided that
you  (1)  not  remove any proprietary notice  language  in  all  copies  of  such documents, (2)  use such information only  for  your personal,  non-commercial  informational  purpose
.
Furthermore, you must not  copy   or  post such information  on  any networked computer or broadcast it in any media, (3) make no modifications to any such information, and (4) not  make any
additional
representations or warranties relating to such documents
.
3.4.
You may not forge headers or otherwise manipulate identifiers
in order to
disguise the origin of any message or transmittal you send to deGRANDSON Global on or through the Website or any service offered on or through the Website
.
You may also not pretend that you are, or that you represent, someone else, or impersonate any other individual or entity
.
3.5.  You may  not use the Website or any content for any unlawful or prohibited purpose under these Terms.
Nor should you
solicit
the performance of any illegal activity or other activity that infringes on the rights of deGRANDSON Global or others
.
4.1 deGRANDSON Global and the deGRANDSON Global logo are trademarks of deGRANDSON Global Ltd
. 
All other trademarks mentioned in this web site are the property of their respective owners
.
 

5. Links to third party sites
5.1 This Web Site may contain links to third-party sites. Because of this, access to any other Internet site linked to this Web Site is at the user's own risk.
deGRANDSON Global is not responsible for the accuracy or reliability of any information, data, opinions, advice, or statements made on these sites
.
deGRANDSON Global provides these links
merely
as a convenience and the inclusion of such links does not imply an endorsement
 

6. Limitation of Liability
6.1.
 Except where prohibited by law, in no event will deGRANDSON Global be liable to you for any indirect, consequential, exemplary, incidental or punitive damages, including lost profits, even if deGRANDSON Global
was advised
of the possibility of such damages
.
6.2.
If,
notwithstanding
the other provisions of these Terms, deGRANDSON Global
is found
to be liable to you for any damage or loss which arises out of or is in any way connected with your use of the Website or any content, deGRANDSON Global's liability
shall
in no event exceed the total of any fees
with respect to
any service or feature of or on the Website paid in the six months
prior to
the date of the initial claim made against deGRANDSON Global
.
7.1.
 You agree to indemnify and hold deGRANDSON Global, its officers, directors, shareholders, predecessors, successors in interest, employees, agents, subsidiaries and affiliates, harmless from  any demands, loss, liability, claims or  expenses (including legal fees)
.
You also indemnify deGRANDSON Global from any third-party claims arising in connection to your use of the Website
.
Part B: Terms and Conditions That Apply if You Enroll in a deGRANDSON Global Course
8. Definitions
8.1 For the purposes of these Terms:
We', 'Us' and 'the Company' means deGRANDSON Global who will provide the Services to you

.

'You'  means the learner receiving the Services; 'Website' includes both the corporate website, where you can access our products and services, and the Learning Management System (LMS)  website used to deliver courses

.

'Enroll' means the process of enrolling for a Course and the term Enrolment

shall

be construed

accordingly

.

If you enrol via the website, this will involve you completing the relevant application forms on the website and submitting the details to us

.

'Services' means (i) the provision of the Course Materials in electronic format or another format where that option applies; and (ii) the provision of tutorial  and other support;

'Course Materials'  means the materials required to complete the Course; 'Course Fees' means the fee payable for the provision of the Services

.

'Examination' means the assessment /examination that leads to Certification by the relevant Examining body, following achievement of a passing score

.
9. Protecting your Personal Information
9.1.
deGRANDSON Global safeguards the security of sensitive data with physical, electronic, and managerial procedures
. 
In addition
to that, we urge you to take every precaution to protect your personal data when you are on the Internet
.
9.2 deGRANDSON Global uses industry-standard Secure Sockets Layer (SSL) encryption to secure data when enrolling on the website
. 
To enrol online, you must use an SSL-enabled browser such as Internet Explorer 6 or later.
This protects the confidentiality of your personal and information while it
is transmitted
over the Internet
.
9.3. We never
possess
your credit or debit card information if you choose the
PayPal option.  We also process payment through Stripe who offer many additional ways to pay.
9.4 That said, we track click-throughs to help us determine your interest in particular topics and measure the effectiveness of our customer communications
.
9.5 
Occasionally
, we may collect sensitive personal data in order to assist you in completing your  Course
. This data will be collected in accordance with the principles outlined in the General Data Protection Regulation (GDPR – Regulation (EU) 2016/679).
9.6 Testimonials: We will only publish testimonials where you have given explicit permission by email to the wording to be used.
9.7 Reviews: Only customers who have accepted these Terms and Conditions will be asked to write a review.
10. Provision of Services
10.1.
Once you have enrolled, you will receive an email or written confirmation that confirms the arrangements for your Course
.
10.2.  Your Course materials will then
be posted
to you or you will
be provided
with access to deGRANDSON Global's eLearning System
. The duration of your Course
is outlined
on this website on each Course page.
10.3.
The learner agrees to ensure that they have the necessary technical requirements
in order to
complete the Course
.
These technical requirements
are outlined
on each Course page, and may   include requirements
regarding
computer type, internet access, operating system and software
.
10.4.
Once you  have enrolled for a Course, if you  decide that you  wish  to cancel  your  enrolment, you  may  do  so  
provided that
: i) you have not completed Module 1 of the Course (other than the Examination) and ii) you  notify  us in  writing  of your  request for cancellation  within  7 days of
purchase
10.5.
If you cancel a Course we will re-credit your Course fees, within 28 days of receiving your notice of cancellation
. An administration fee of UK£60 applies.
10.6. It is
solely
the Learner's responsibility to ensure, prior to enrollment, that they meet the pre-requisite requirements  as detailed  on  each Course page
.
10.7.  Courses are available for 6 calendar months from the date of purchase of the Course.
10.8.  Certificates, where issued, are available for 10 years from the date of purchase of the Course and can be cerified by use of the QR Code on the Certificate.
11. Transferring to another Course
11.1.
Enrolled Learners can transfer to another Course, of their choice,
provided that
you make such requests in writing by email within 30 days of enrolment and that you pay
additional
Course Fees (if any) in full
. There is an administration charge of €60 for transferring to another Course.
11.2.
Please note that deGRANDSON Global will not allow Learners to transfer a purchased Course, to another person
.
12. Quality of the services
12.1. We will use reasonable skill and care in the delivery of our services.
We will provide the services
in accordance with
the Course description which is set out on the website or other promotional materials
.
12.2.
All representations, warranties and/or terms and/or commitments not
expressly
set out in these Terms (whether implied by law, conduct, and statute or otherwise) are hereby excluded to the
maximum
extent permissible at law
.
13. Payment of the Course Fee
13.1 You agree to pay us the Course fee.
Online payment via Stripe or PayPal, by credit or debit card or by PayPal account during enrolment, is the only form of payment accepted by the Company
.
13.2 Learners who withdraw from their Course, after the seven days allowed, remain liable for full Course fee
.
13.3 deGRANDSON Global reserves the right to withhold certification for learners with an outstanding balance of fees
.
13.4 The current Course Fee for any Course at any given time will
be displayed
on the website.
13.5 Only one discount or other special offer, as may be available from tinme to time, may be applied to any Course purchased.
13.6 In the unlikely event that due to a technical error, the amount of the Course Fee is incorrect, we will notify you as soon as we
reasonably
can
. 
You can then choose between receiving a refund of the monies that you have paid to us (in which case you will not
be enrolled
on the Course) or to pay the balance of the Course Fee to us
.
13.7 The time allowed to complete each Course
is detailed
on the website.  Extension to this time
is allowed
but only at the sole discretion of the Company. There may be
additional
charges for time extensions.
14. Tutor Support
14.1 Tutor Support is available to our Learners free-of-charge throughout their period of study.
14.2 Support will only be provided through the use of our Support Ticket System at https://www.degrandson.com/knowledge-base/.
14.3 Support is limited to a cumulative maximum of 10 hours per Learner per Course.
15. Examinations
15.1
Examinations must
be completed
to the required standard
in order to
receive an award/certificate
.
15.2
Unless stated otherwise on the Course website page, there is no
additional
charge for Examination
.
15.3 The cost of third party examinations is not included in Course Fees unless
specifically
stated on the website
.
15.4 In the event of a dispute over Examination results that cannot be resolved directly between the parties, the services of an Expert Adjudicator is available to the Learner at a cost of BGP 100 per Module Examination.
16. Complaints
16.1. In the event that you are not satisfied with any aspect of our services, please write to:
deGRANDSON Global
Cedars Oasis Tower
Arch. Makarios III Avenue
17. Our Liability to You
17.1.
The exclusions and limitations of liability contained in these Terms do not apply to (i) any loss or damage resulting from death or personal injury caused by our negligence (ii)
.
The same goes for loss or damages arising from our fraudulent misrepresentation or (iii) any other losses which may not
be excluded
or limited by law
.
17.2.
We
shall
not  be responsible to you  in the event that we cannot provide the Services to you  due to an event beyond our reasonable control
.
This includes (but  is not limited to) events such as, fire, flood, storm, strikes or other industrial action
.
The same goes for failure of telecommunications  services, war, riot,  or the actions  of any government or public  body
.
In the event that we
are prevented
from providing the services by such an event, we will take all reasonable steps to try to reinstate the provision of the services to you as soon as is
reasonably
practicable
.
17.3.
In no event
shall
we be responsible to you for any loss of profit, loss of earnings, loss of anticipated savings, loss of revenue or loss of goodwill that you may suffer
.
Furthermore, in no event
shall
we be liable to you for any indirect or consequential loss that you may suffer
.
17.4.
We are not responsible to you for any data that you lose either (a) as a result of accessing the Course Materials; or (b) during completion of any Course
.
It is your responsibility to ensure that you
regularly
save and back up (I) all data which you hold on the computer from which you are accessing the Course materials, and (ii) all data that you produce when completing the Course
.
Exemptions to the Terms and Conditions Under this Clause
17.5.
Except where the above applies, our
maximum
aggregate
liability to you for any claim that you may have against us under or in connection with the provision by us to you of the services which is not otherwise excluded in these Terms (including without limitation where such claim arises as a direct result of any negligent technical advice provided by us and/or by deGRANDSON Global staff)
shall
be limited
to the amount of the Course fee which has
been paid
or is payable by you or on your behalf
.
17.6. Each provision of this paragraph
shall
be construed
separately
as between you and us.
If any part
is held by
a court to be unreasonable, inapplicable or unenforceable, then the other parts
shall
still apply
.
18. Your Use of the Course Materials
18.1.
Following the receipt of the Course fee, we grant
You
a non-exclusive, non-transferable license to use the Course Materials
. This is for the sole purpose of non-commercial home or work use.
18.2.
Save as
expressly
set out in these Terms, you may not
modify
, copy, reproduce, re-publish, upload, post,
transmit
or distribute in any way any of the Course Materials
.
18.3 Any use of the Course Materials not
expressly
permitted in these Terms is
strictly
prohibited
.
This will constitute an infringement of our copyright or our other intellectual property rights
.
It will
be taken
as an infringement of the copyright or other intellectual property rights of our licensors as well
.
Part C: General Terms and Conditions
19.1. These Terms
are governed by
and
shall
be construed
in accordance with
the Laws of the Republic of Cyprus.
Any dispute arising between us under or in connection with these Terms
shall
be subject to the non-exclusive jurisdiction of the Cyprus courts
.
19.2.
These Terms constitute the entire agreement between us in relation to the provision by us to you of the Services
.
They replace and supersede any prior arrangements between us in relation to the Services
.
You acknowledge that you are not relying on any statement made by us or any of our representatives with regard to the Services other than those
expressly
set out in these Terms
. This includes, for the avoidance of doubt, the description of the Services set out on the website).
Nothing in this Paragraph
shall
exclude or restrict our liability for fraud or fraudulent misrepresentation
.
19.3.
The continued use of the website following any changes to the Terms will mean that you accept such changes.