Diploma Certificate with QR Code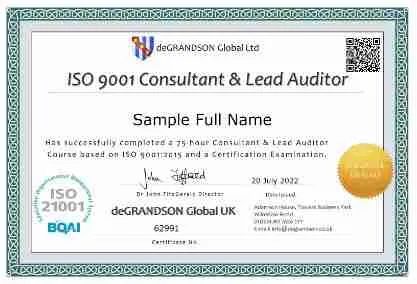 ISO 9001 Consultant and Lead Auditor Diploma  Course
If you want to be an ISO 9001 Consultant or to develop and implement a Quality Management System (QMS), this is the 'Gold Standard' Diploma for you.
The QR Code on your Certificate means that you can instantly verify your Diploma's validity for any prospective client.
It will be especially beneficial to …
ISO 9001 Consultants: Where you wish to have a professional qualification to offer prospective clients.
Experienced Quality Management Professionals: upgrade your qualifications to a recognized internal standard.
Newcomers to QMS:  You don't need to be an expert. You'll be taken on a practical journey from getting started to Certification.
The course provides you with the Auditing Skills, the Knowledge of the Standard, and the practical application of that knowledge with Audit Scenarios to enable you to undertake and manage Internal Audits for your Organisation.