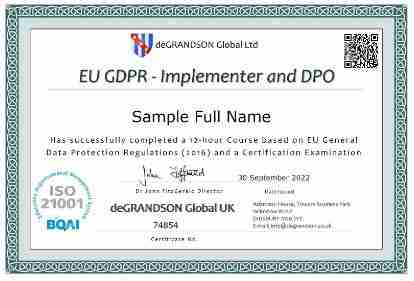 EU GDPR Implementer & DPO Course
This GDPR Course is an internationally-recognized online course for those wishing to implement and maintain a GDPR-compliant Personal Data Management System and/or to act as DPO – Data Protection Officer for their organization.
The Course provides you with Knowledge of the Regulations together with their interpretation and application to enable you to check compliance with the Regulations with confidence.
Not sure this GDPR Course is the right one for you?
If unsure, check out the alternative course, Course 728: EU GDPR Foundation Course.
Related Courses
Related Articles
Documenting GDPR and ISO 27001: What's the Best Strategy

GDPR, ISO 27701 and ISO 27001: a natural combination?
Have you tried this course?
Let us know what you think by rating it and leaving a comment below!