Diploma Certificate with QR Code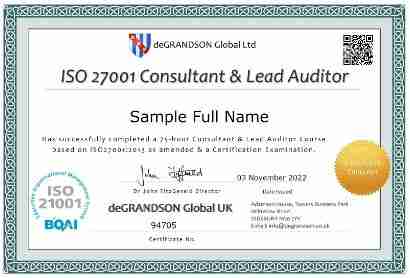 ISO 27001 Consultant and Lead Auditor Course Content
This ISO 27001 consultant and Lead Auditor course is primarily intended for …
ISO 27001 Consultants & Advisors: Where you wish to have a professional qualification to offer prospective clients.
Experienced Information Security Advisors and similar Professionals: to upgrade your qualifications to a recognized international standard.
Newcomers to Information Security Management Systems:  You don't need to be an expert. You'll be taken on a practical journey from getting started to Certification.
Experienced Information Security Management Professionals: Understand the impact of the Standard, the type and extent of documentation required, best practice in maintaining an ISMS and best practice when auditing to Certification Body requirements.
The course provides you with the Auditing Skills, the Knowledge of the Standard (including Annex A – Information Security Controls) and the practical application of that knowledge with Audit Scenarios to enable you, as Audit Programme Manager, to undertake and manage Internal Audits for your Organization.
…
Click on 'Full Screen'  button below for best view of Content Pages
ISO 27001 ISMS Contents of Handbook v6

Not sure if this is the best choice of Course?
See our full list of ISO 27001 Courses by clicking on the image above or check out our answers to frequently asked questions about ISO 27001 to get a quick refresher overview of the standard and related training and certification information.
Related Articles
Have you tried this course?
Let us know what you think by rating it and leaving a comment below!